Barone Pizzini
Baron's winery: sustainable great bubbles from Franciacorta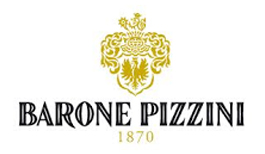 The Barone Pizzini is to be counted among the historic cellars of Franciacorta, known and respected for the quality and reliability of its cuvée. Established in Provaglio d'Iseo in 1870 by Baron Giulio Pizzini Piomarta Von Thurberg, the company is now led by a group of passionate entrepreneurs from Brescia: Ugo Colombo, Piermatteo Ghitti, Silvano Brescianini.
In 1998 he was the first winery of Franciacorta to espouse the cause of organic viticulture and today, alongside the pursuit of quality and excellence, continuous commitment to sustainable agriculture. The vineyards of the winery will extend for a total of 47 hectares divided into 25 parcels between the municipalities of Provaglio, Corte Franca, Ado, Passirado. They are rooted in about 200 meters of altitude and soils in the moraine, enriched by fluvioglacial depositions. The methods of cultivation are organic and have as their objectives: the harmonious balance of the plant, the production of grapes well characterized, a guarantee of quality and health for the consumer and environmental protection and land.
The grapes harvested and vinified in a cellar convey ultra modern, built in 2006 according to architectural criteria environmentally friendly, equipped with photovoltaic panels and natural systems of conditioning. FROM lively and rigorous winery Barone Pizzini was born a rich and extraordinary sparkling Franciacorta, all of great quality and inextricably linked to the territory. These are wines that preserve and communicate a great charm, a must for all lovers of the bubbles.
Barone Pizzini Franciacorta