Ferrari
The winery that represents Trento DOC: irresistible and elegant freshness of Italian sparkling wine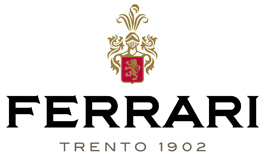 The Ferrari winery is an important establishment in Italian sparkling wine production, a true symbol of excellence for Trentino sparkling wines. It was founded in 1902 by the brilliant intuition of Giulio Ferrari, driven by the dream of creating bottles that could compete with the best Champagnes. Remaining faithful all his life to a rigorous and continuous search for quality and elegance, Giulio was a great and legendary pioneer of the Metodo Classico and helped to popularise Chardonnay in Italy. After his early successes, the sparkling wine company was taken over in 1952 by his heir Bruno Lumelli who, driven by a deep passion for the production of sparkling wines, continued the meticulous work in the vineyard and in the cellar, becoming an international standard. Today the winery, run by the Lunelli family, continues to be an undisputed symbol of Italian wine-making and to produce world-famous sparkling wines.
The collection of Trento DOC Ferrari sparkling wines, characterised by a unique and inimitable style, is made from Chardonnay and Pinot Noir grapes that come partly from the company's own vineyards, but more importantly from a vast network of selected suppliers, covering around 800 hectares of vineyards spread over the Trentino hills. A rigorous selection of grapes, designed to maintain the high quality standard of the vast production, leads the Lunelli family to discard about 20% of the harvested grapes each year. The decision to convert the vineyards to organic farming represents a further step of fidelity and coherence to the founder's principles and is contributing significantly to the promotion of sustainable mountain viticulture. The more than 500 vine-growing families are also required to comply with strict ecological standards that include the total ban on synthetic herbicides and pesticides. The grapes, harvested by hand in late summer, are taken to the cellar, where pressing and initial fermentation take place. After the creation of the cuvées, the wines are bottled with sugars and yeasts that help trigger the second fermentation in the bottle. Depending on the type, a long resting period on the lees of between two and ten years is required.
Spumante Trento DOC and Ferrari are two inseparably bound together: the union between a particularly suitable territory such as Trentino and the work of the Lunelli family has given life to bottles of absolute value that have made the history of the territory. Today, around 15 different labels are produced, divided into 5 high-profile collections that impeccably reflect the criteria of elegance, finesse and quality. Every year, this great sparkling wine producer distinguishes itself on the international sparkling wine scene for its professionalism and dedication to the territory, confirming its role as a leader in the promotion of Italian excellence throughout the world.
The sparkling wines of Ferrari