DUSA - Diplomatico
From the slopes of the Venezuelan Andes, one of the world's most award-winning rums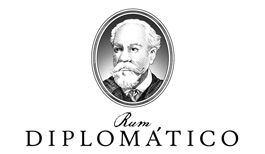 The DUSA Distillery is one of the most famous of its kind in South America. It is located in Venezuela, in an area specifically chosen for the production of great rums. It is located at the foot of the imposing peaks of the Andean chain, from which the crystal-clear waters of the mountain streams flow, which are perfect for achieving an extraordinary purity of distillates. The facilities are close to the region where excellent quality sugar cane is grown, resulting in a particularly fine and aromatic juice and molasses. The origins of the distillery date back to 1959, when Licorerías Unidas S.A, or LUSA, was established, which is owned by Seagram's International, one of the world's most important groups in the industry. In 2002, the LUSA distillery was acquired by a Venezuelan company and renamed DUSA, or Destilerías Unidas S. A.
Destilerías Unidas S. A. has remained faithful to the finest traditions in the history of rum. At the heart of the production process is a carefully selected raw material. In the sugar cane plantations in the area, around ten different qualities are grown, although DUSA has chosen to use three in particular for the production of Rum, which it regards as the absolute best, and these are Romana, Venezuela and Canal Point. After the plants are cut, they are processed to extract the molasses and cane juice, which are particularly rich in sugar and have very intense aromas. Molasses is used for fermentation to produce the simplest and lightest distillates, while the thick juice is used to produce the most full-bodied and aromatically complex rums, which are intended for long ageing.
At the end of the fermentation phase, which is carried out with selected yeasts, distillation takes place. The light and young Rums are distilled in column stills, while the traditional Pot Still copper pot stills are used for the reserves. Thanks to an ancient expertise, very pure distillates with a fine and elegant profile are obtained. Destilerías Unidas S. A. pays particular attention to the ageing phase. The rums mature in the warm Caribbean climate in carefully selected wood. The cellars contain barrels that were previously used for the ageing of American Bourbon, Whisky and Andalusian wines from Jerez de la Frontera, especially the Oloroso and Pedro Ximénez. At the end of the ageing period in wood, the Master Roneros of the Distillery select the best batches in order to always create harmonious and balanced blends.
The distillates of DUSA - Diplomatico