Bastianich
A return to the origins, to demonstrate the strength and evolution of Friulian wines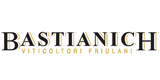 The Bastianich winery was founded in 1997 to produce wines with a strong personality, which combine and celebrate the precious characteristics of the renowned terroir of the Colli Orientali del Friuli. At the helm of the winery is Joe Bastianich, the judge of the famous cooking show Masterchef, considered one of the greatest personalities in the world of Italian and American gastronomy and cuisine. Before becoming a famous showman, he spent his childhood in the New York restaurants of his father Felice and mother Lidia, learning all the secrets of the trade. After a brief career on Wall Street, he decided to follow his great family's passion for gastronomy, mixing entrepreneurial knowledge with his great skills as a chef. Thus the creation of the Bastianich estate, inaugurated in the very land of his mother Lidia's birth, is intended to represent the cultural heritage that has personally influenced the life of the creator and his family. This dedication to the world of wine represents something more, an ambitious and proud project, which in addition to celebrating the return to the origins and ancient roots, aims to compete, through wines of great quality, with the big names of the international market. Today, the know-how of the famous television personality is embodied in the production of precious wines that have become established among the best and most prestigious in the region year after year.
The vineyards of the Bastianich winery extend over an area of about 35 hectares along the Buttrio and Premariacco hills and the Cividale del Friuli hills: while the former are embraced by the warmth of the sea, the latter are swept by the icy bora wind. The secret of success lies in the territory: the vines are rooted in soil known locally as 'ponca', a stratified composition of marl and friable sand, which gives the wines a magnificent mineral structure. In addition, Bastianich has used the secrets of local producers to retrace the ancient tradition of the area. In the cellar, the procedures, supervised by enologist Emilio del Medico, are minimally invasive and aim to enhance the varietal characteristics of the vines and the territorial notes of the place of origin.
Bastianich wines are precise, pure, and typical expressions of the hilly terrain of this area of Friuli. Rich in scents and aromas, they are the ambassadors of the territory and international taste. Of particular note is the Vespa Bianco, one of his greatest intuitions, named after the wasps surrounding the grapes, which expresses the potential of Friulian wines and Joe's great passion.
Other Informations
Emilio del Medico, Maurizio Castelli
Via Darnazzacco, 448 - 33043 Gagliano (UD)
The wines of Bastianich