Hofstatter
The elegant and impeccable style of South Tyrol: the ability to combine variety and quality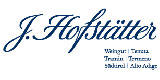 Hofstatter is a historic South Tyrolean wine brand, a top-level establishment managed by the wise vision of Martin Foradori, heir to an ancient family of winegrowers in the area who owned excellent vineyards on the eastern side of the Adige Valley. The winery is located in Termeno, in an imposing 16th century building. The family's aim has always been to combine the centuries-old tradition of their land with constant innovation in the best possible way: by applying gentle cultivation techniques that are in touch with nature.
The extraordinary quality of Hofstatter wines confirms that this goal is achieved year after year, providing expressions of great elegance and balance, in perfect South Tyrolean style. Pinot Noir, Cabernet Sauvignon and Merlot are the three most widely planted red grape varieties on the estates and produce important reds, not to mention the excellent results achieved by Lagrein. But Alto Adige, or South Tyrol, is above all synonymous with excellent white wines, and Martin Foradori has proved himself an excellent interpreter of this delicacy. He produces truly unique and characteristic Gewurztraminer, together with Pinot Bianco, Chardonnay and Muller Thurgau. From the prestigious high hillside vineyard called Vigna San Michele, a true cru of the Barthenau estate, emerge celebrated and important expressions of Pinot Noir and Pinot Blanc, the spearheads of the entire production.
Meticulous attention to detail and daily work in the sun-drenched, well-exposed vineyards are the secrets of the success of this important South Tyrolean winery. The attachment to the most authentic traditions of the territory and of the family has not prevented Martin Foradori from investing in technology and creating an advanced wine cellar, building, for example, an avant-garde 'wine tower' above the cellar and equipping himself with new conical-shaped cement barrels with a minimal energy impact. The perfect combination of all the ingredients enables Hofstatter wines to be at the top of the wine world year after year, and thus to represent the excellence of the wines of their region with full recognition.
Other Informations
Marcus Heinel, Stefan Micheli
Tenuta J. Hofstätter, Piazza Municipio 5, 39100 - Termeno/Tramin (BZ)
The wines of Hofstatter