Tenuta San Leonardo
Among valleys, woods and mountains, one of the finest wine productions in Italy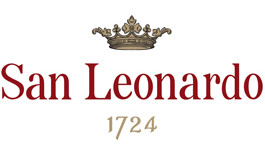 Nestled, like a precious stone, in Vallagarina, between woods and mountains, Tenuta San Leonardo comprises 300 hectares of land, 30 of which are planted with vines, home to Cabernet, Carmenère, Merlot, Petit Vedot, Sauvignon and Riesling. Its origins date back more than a thousand years, when the estate was founded by the Archiepiscopal Curia and entrusted to the Cruciferous Friars, who inaugurated viticulture in the area. From the 17th century, the noble De Gresti family joined the friars in managing the estate and, after buying it from the Church, bequeathed it to the Guerrieri Gonzaga family. Today the Tenuta San Leonardo is run with passion and enthusiasm by Marquis Carlo Guerrieri Gonzaga together with his son Anselmo, his right-hand man Luigino Tinelli and the enologist Carlo Ferrini.
The wines of Tenuta San Leonardo come from the land surrounding the prestigious Villa Gresti, enclosed by walls, in addition to a vineyard located in Roveré della Luna, cultivated with Sauvignon and surrounded by 270 hectares of woodland. All the land on the estate has recently been converted to organic farming, to preserve the precious ecosystem and to allow nature to express itself at its best: "The land is the soul of our business" Carlo Guerrieri loves to repeat.
The Marquis Guerrieri Gonzaga has had the merit of having written the history of quality wine in Trentino from the 1970s to the present day, taking regional wine production to previously unimaginable levels. San Leonardo is one of the most celebrated Italian reds, one of the pioneers of the Bordeaux style in Italy. But even the most recent wines have demonstrated a charismatic character and show excellent performance year after year, remaining faithful to an international style marked by elegance and impeccable balance.
Other Informations
"The wines of the Marquis Guerrieri Gonzaga have in their elegance and grace the common characteristics, which are found both in the different labels and in the various vintages".
- Slowine Guide 2015
"The San Leonardo estate has been producing some of the Italy's finest Bordeaux style wines for generations"
- Nicolas Belfrage, World of Fine Wines 2009
The wines of Tenuta San Leonardo