Tenuta San Leonardo
Among valleys, woods and montains: some of the finest wines of nothern Italy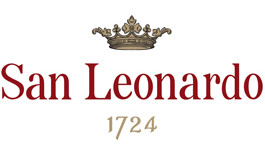 In Trentino, located in Vallagarina like a gemstone, Tenuta San Leonardo includes 300 hectares, 25 of which are with vineyards, bith place of Cabernet, Carmenère, Merlot, Petit Vedot, Sauvignon e Riesling. Its origins date back more than a thousand years ago, when the estate was owned by the Archbishop and some friars; in the XVII century the noble family of De Gresti began to help the friars for the mangement of the estate and than the family purchased it and bequeathed it to the Marquis Guerrieri Gonzaga; today the Tenuta San Leonardo is owned by Carlo Guerrieri Gonzaga, who works with passion and enthusiasm with his son and with the oenologist Carlo Ferrini.
The wines of Tenuta San Leonardo are from vines wich surround the prestigious Villa Gresti, with the addition of a Sauvignon vineyard located in Roveré della Luna, surrounded by 270 hectares of woodland. Recently, all the land of the estate have been converted to organic farming, to preserve the valuable ecosystem and to allow the terroir to give their best: " The earth is the soul of our profession " Carlo Guerrieri says.
Marquis Carlo Guerrieri Gonzaga has been writing, since the 70's, the history of wine quality in Trentino, bringing the wine production of Trentino to very high levels. San Leonardo is one of the most famous Italian red wine, the pioneer of the Bordeaux style in Italy. Also the most recent labels of Tenuta San Leonardo have been showing a charismatic character and a great personality.
Information
"The San Leonardo estate has been producing some of the Italy's finest Bordeaux style wines for generations"
Nicolas Belfrage, World of Fine Wines 2009
The Wines by Tenuta San Leonardo