Frescobaldi
Wines from a winery deeply rooted in the history of Tuscany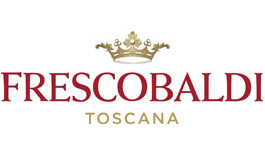 The Frescobaldi winery is one of the most historic, important and well-known wineries not only in Italy but throughout the world: an extraordinarily important monument to Tuscan winemaking history. The Frescobaldi family, perhaps originally from the Val di Pesa, settled in Florence in the 13th century, quickly achieving a position of economic, political and cultural prestige. The main activities that made them extraordinarily rich and influential were the wool trade, bank lending and the cultivation of vast estates, where large quantities of wine and oil were produced. Popes and kings from all over Europe, to whom the family often lent large sums of money, were the first customers and admirers of the wine production. For centuries the family maintained a leading position in the affairs of the city and continued to produce typical wines of the area, mainly based on Sangiovese. Starting in 1855, Vittorio degli Albizzi, an acquired member of the important family, introduced the cultivation of international grape varieties such as Chardonnay, Merlot and Cabernet Sauvignon, marking a significant change in production and inaugurating the modern and innovative style that still characterises the winery today.
Today, centuries later, the Frescobaldi winery remains one of the largest and most highly regarded wine producers in Tuscany and Italy, with a total of 1200 hectares of vineyards located on prestigious estates with historic residences and ancient castles. These estates contain all the glorious history of the greatest Tuscan wines. To give just a few examples: Castello di Nipozzano, where important expressions of Chianti Classico are born; Castello Pomino, home to elegant and intense wines of ancient charm; and Tenuta Castelgiocondo in Montalcino, which seems to encapsulate the magic and all the history of the Sienese territory.
Frescobaldi wines are the fruit of more than 700 years of history and a well-established entrepreneurial vision that has no equal in the world. This noble family has been able to renew itself in an extraordinary way over the centuries, generation after generation, always maintaining the very high level of quality of the entire production and imposing itself as an international benchmark producer.
The wines of Marchesi de' Frescobaldi