Nikka
The prestogious distillery of the father of Japanese Whisky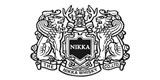 Nikka distillery is a landmark in the history of whisky, born from the marriage between the century-old Scottish tradition and the rich Japanese culture. For the first time the founder of Nikka, Masataka Taketsuru, introduced this spirit in Japan, making himself known throughout the world as the father of Japanese whisky.
He inherited the long legacy left by its family, who owned a distillery of sake in the eighteenth century and that is still working today, and wanted to introduce a genuine whisky in his land. He went in the home of whisky to learn the secrets of the art and craft techniques: he studied chemistry at the University of Glasgow and worked in different Highland distilleries. Returned enriched with a secular heritage and with the support of his Scottish wife, in 1934 chose as the ideal location for his distillery, named Yoichi, an area similar to those experienced in Scotland: Hokkaido, rich of water, peat and malt. The fairly remote location on the island of Hokkaido not deprived the produced whisky an immediate great success that brought Masataka to open another distillery in Aobaku in 1969, called Miyagikyo Distillery and better known under the name of Sendai Distillery. Recently, in 1989, the company has also acquired an important distillery in Scotland, the Ben Nevis Distillery.
The collection of Nikka whisky is very wide, designed to suit all tastes, going from blended whiskey, the single malts, with a coffey or a continuous distillation, reaching peaks of different aging. What is common and remains a staple of Nikka craftsmanship is the attention to the quality, never failed to satisfy the great demand from all over the world. In many cases, Masataka wanted to maintain traditional processing techniques that over time even the Scottish distilleries have abandoned.
Nikka boasts such a rarity and authenticity that have won numerous gold medals during these years in major world competitions, such as the World Whiskies Awards (WWA) and the International Spirits Challenge (ISC).
Other Informations
Nikka Whisky Yoichi Distillery, 〒046-0003 Hokkaido, Yoichi District, Yoichi, Kurokawacho, 7−6, Giappone
The Whisky by Nikka