Damijan Podversic
A colossus of the Gorizia hills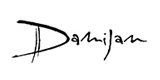 At only forty years of age, Damijan Podversic can already boast an incredible amount of experience. As a young man, he started cultivating the few family vineyards, learning everything about wine from his only master: Josko Gravner. Working alongside him in the complicated management of the cellar-home is his wife Elena, who has been an absolute reference point for Damijan for years. The winery's most important vineyards, in addition to the small plots scattered throughout the Collio area, are located on the wooded south-facing slopes of Monte Calvario, on the outskirts of Gorizia, in an uncontaminated environment that is perfect for growing healthy, flavourful grapes.
The viticulture he practises is strictly organic, with great attention paid to the balance and health of the plants. Damijan has been good at creating absolutely unique wines, avoiding the use of modern and standardising ageing practices, but, on the contrary, preferring to use natural winemaking techniques learned from the master Josko. His white wines are both fermented on the skins with natural yeasts and are never put on the market unless absolutely ready to be tasted.
All this attention to the various vinification processes makes Podversic's cellar surprising, capable of giving us wines of great depth, rich in the flavours and aromas of the Collio.
Other Informations
Via Brigata Pavia, 61 - 34170 Gorizia (GO)
"More than 30 vintages and a unique knowledge of the vine, the soil and the maceration technique, which he shares with his children Jacob and Tamara, are not enough to describe Damijan Podversic".
- Slowine Guide 2020
The wines of Damijan Podversic