Barbacarlo - Lino Maga
A winery famous for an ancient and legendary wine, a symbol of rural, farmer wine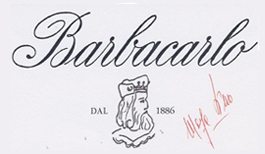 Lino Maga is Mr. Barbacarlo, the producer of a rustic, farmer's wine that has become a legend. The foundation of the winery dates back to 1896, when the ancestors of the Maga family named the family vineyard and an entire hillside in memory of their uncle Carlo: Barbacarlo in the dialect of the province of Pavia. Years of struggles and legal battles resulted in Livio having the monopoly of the brand name, previously exploited throughout the Oltrepò as a synonym for good wine, and having the vineyard recognised as a grand cru monopole.
We find ourselves in the hills of the municipality of Broni, in the Oltrepò Pavese area. Here Lino, now assisted by his son Giuseppe, cultivates the two crus he owns, Barbacarlo and Montebuono, with centuries-old vines, without the use of chemical fertilisers or weed-killers, using only a little sulphur and a lot of good farming sense. In the cellar, fermentation takes place in large, very old oak or chestnut casks, each with its own name. The wine is then immediately bottled, often with fermentation not yet completed.
Lino Maga's wines are produced in limited quantities of just a few thousand bottles, they do not carry denominations and are never the same: they change depending on the vintage and continue to develop in the bottle for up to 30 years. They are very long-lived and full-bodied wines, characterised by a carbonic pungency (sometimes imperceptible, sometimes very lively), by tasty tannins and by an exceptional versatility in food pairings, as Gianni Brera, one of the first and greatest admirers of Barbacarlo, often pointed out. These are wines produced as they used to be in the past, without added yeast or controlled temperatures, often unpredictable but always unique and exceptional, strong and genuine, artisanal and rich in history.
Other Informations
"Maybe it's my childhood, maybe it's my atavistic disposition, but I've drunk and still drink better wines, although I never find any that I like equally, and that are equally loyal at any level".
- Gianni Brera
The wines of Barbacarlo - Lino Maga