Lagavulin
The most aristocratic of Single Malt of Islay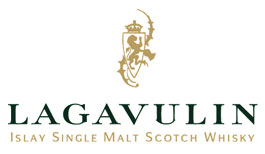 Lagavulin distillery has been producing Single Malt Scotch whisky since 1816, when John Jonston and Archibald Campbell decided to build two distilleries in the same name place of the famous Scottish island of Islay, which takes its name from the Gaelic lag a'mhuilin, which means "hollow by the mill": a stone's throw from the sea and in the background of the ruins of the castle of Dunyveg, scene of major battles in Scottish history, in a short time these two distilleries merged in 1836 creating a real institution of Scotch.
Lagavulin distillery is known to be the "aristocratic" of Islay. It uses in fact the slower distillation process than all other Islay Single Malt: about 5 hours for the first distillation, and over 9 hours for the second one. Even the barley used for the Lagavulin, which comes from nearby Port Ellen, is fermented with a very slow process, between 55 and 75 hours. The water coming from Solum Lochs goes down to the distillery in a soil rich in peat, making even more "peated" the final product. Furthermore, two of his four pot stills have a characteristic pear shape that makes them unique in comparison to other distilleries.
Lagavulin whisky is part of the six most representative "Classic Malts of Scotland" and has received major awards from the most prestigious international critics. His Single Malt 16 years mature in oak casks for longer than any other Classic Malts, cause of strong character, and obviously rich peat. The Distiller's Edition Single Malt "1998/2014" is unmissable: aged 16 years in oak barrels with final aging in Pedro Ximénez sherry casks, it is characterized by breezes of marine notes and black pepper. Certainly a noble distillery for lovers of Scotch.
The Whisky by Lagavulin