Ruinart
Ruinart: the art of Champagne since 1729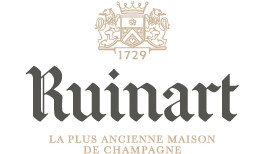 Ruinart is one of the biggest names in the galaxy of Champagne, a real symbol of the most renowned region in the world for the production of the great bubbles. Ruinart story began when the Benedictine monk Dom Thierry Ruinart (1657-1709) realized the high satisfaction gained by wines from their region in all areas of Europe and began working with Dom Perignon, who taught him the secrets of the champenoise method.
It is his nephew Nicolas in 1729 to found the Maison Ruinart, the oldest manufacturer of Champagne. Over the centuries, the generations succeeded one another: so, the name Ruinart became the legend of the great Champagne, a symbol of joy and exclusivity, prestige and carefree.
Only the great bubbles have these characters and manage memorable occasions. In every shade, Ruinart bottles have never disappoint expectations. The strength of the winery is definitely the Chardonnay vine, the very soul of Ruinart. Its grapes, most of them from Côte des Blancs and Montagne de Reims, are at the heart of all its cuvée: with a great aromatic freshness, vibrant, pure and bright, it is the underlying theme of all assemblies made from the house.
Other Informations
4 Rue des Crayères, 51100 Reims, Francia
Ruinart Champagne