Abbazia di Novacella
Since the XII century a synonymous with wine making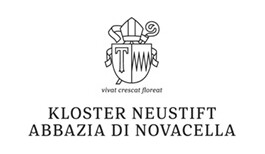 Abbazia di Novacella can be regarded as a kind of temple of viticulture of the Isarco Valley, of course: here wine has been produced from centuries, since 1142. The centuries-old experience, combined with the latest technologies and the passion of those who work in vineyard and winery, makes Abbazia di Novacella wines rich in personality and character.
Thanks to the altitude, between 600 and 900 meters, the cool climate and the mineral wealth make these ideal grounds for the optimal development of aromas and flavor of the typical white wines of the Isarco Valley as Sylvaner, Müller Thurgau, Kerner , Gewürztraminer and Veltliner.
Today Abbazia di Novacella has 25 hectares of land, but controls and processes the grapes from the 50 hectares of the members of the cooperative, its exclusive suppliers. In Novacella winemaking and refinements of white wines take place, while in Cornaiano there is another company location in which converge the red grapes.
The control of grapes from growers members and the dedication with which for centuries Abbazia di Novacella has been making wine are an absolute guarantee of the high quality of the wines: minerals and tasty as only the wines of South Tyrol. Today, in this landscape, already crowded with high level companies, Abbazia di Novacella is definitely a point of reference. Here the style of wine favors the natural expression of individual territories, which adds considerable discretion in expressing the varietal characteristics of the grapes base.
Other Informations
Cantina dell'Abbazia di Novacella, Via Abbazia, 1 - 39040 Novacella (BZ)
Abbazia di Novacella wines