Benromach
The Speyside whisky as it used to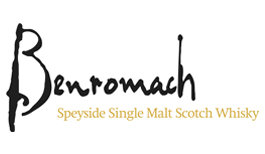 Benromach Distillery, located in Scotland's Speyside, north of the town of Forres, was founded in 1898 by F. W. Brickmann and Duncan Macallum, who entrusted the construction of the building to architect Charles Doig, famous label of several distilleries. The history of the distillery is marked by continuous changes of ownership and shorter/longer closures; despite this, it managed to survive the whisky's crisis of the twentieth century, two World Wars, the Prohibition and the Great Depression of the thirties. After the seemingly final closure in 1983, the building was acquired by the famous independent bottler Gordon & Macphail. In 1998 they succeed in the reopening, being able to celebrate the centenary of the distillery along with Prince Charles, who attended the ceremony.
The Benromach distillery produces interesting and varied Single Malt, slightly peaty, which are different from other whiskies from Speyside, generally not peated. It has two copper stills and four wood washbacks, with an annual production between 150,000 and 250,000 liters of cask strength whisky. Its water comes from nearby Chapelton Springs, known for purity and sweetness, and its barley comes from the surrounding area and it is slightly malty with peat smoke. All these factors contribute to the mission of the distillery, that is creating Speyside whisky pre-1960s: perfectly balanced with a light touch of smoke.
Among its products, we recommend the Single Malt 10 years, awarded at the World Whisky Awards 2014 as "Best Speyside Single Malt" in the category under 12 years old. A nice dive into the past for all Speyside Single Malt lovers.
Benromach whisky