Contadi Castaldi
The art of experimentation for innovative and fascinating Franciacorta wines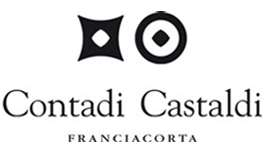 Contadi Castaldi is a famous and innovative Franciacorta winery that combines charm, experimentation, modernity and excellence. It was founded in 1987 in the town of Adro, when Vittorio Moretti, former owner of the world-famous Bellavista winery, decided to transform an old furnace he had purchased, linked to his wife Mariella's childhood memories, into a sparkling wine production facility. Its large spaces and long tunnels, once used for baking bricks, turned out to be perfect for ageing sparkling wines, and so this renovated old furnace became one of the most modern and innovative powerhouses in the area.
The Contadi Castaldi winery is relatively young but is the result of the Moretti family's long-standing and deep-rooted passion for wine, combined with extraordinary entrepreneurial skills. One of the many merits of this winery in Franciacorta, for example, is having deepened and developed the concept of Satèn. This is the French word for Brut Blanc de Blancs sparkling wines that have less pressure inside the bottle and, for this reason, are particularly silky and creamy, thanks to their soft and light perlage. The winery's flagship wine, unlike other Franciacorta wineries, belongs to the Satèn variety and is called Soul. As a result, the winery has become a major reference point for the Satèn type.
The Moretti family has been able to combine quality, style and tradition in their Franciacorta Contadi Castaldi wines, also thanks to the innovative and attractive design of the bottles. Currently, the Contadi Castaldi winery has a vast collection of vineyards and about 7,000 square metres of indoor premises that house the entire production cycle, from the pressing of the grapes to the ageing on the lees in the bottle following the Classic Method. Major investments are allocated to research and experimentation, which is also supported by the organisation of Masters courses on wine: a creative and innovative centre that attracts talent and contributes to the continuous innovation of production techniques. All the wines produced here reflect the charm and artistic spirit of the company that, more than any other in the Franciacorta area, has specialised in the art of innovation.
Contadi Castaldi's Franciacorta