Contratto
The history, prestige and tradition of Alta Langa sparkling wine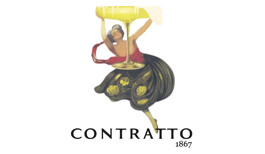 The Contratto winery has an ancient and prestigious history that is rooted in the distant 1867, when Giuseppe Contratto decided to produce the first sparkling wines and build that extraordinary underground cellar, which today is known as the "Cathedral of Wine". Recognised as the oldest producer of the Classic Method in Italy, the estate boasts the record of becoming the first producer of a dry vintage sparkling wine in 1919, which is produced exclusively from Moscato grapes. In those years, there was also the introduction of the "For England" line of sparkling wines, which were based on French styles and produced from the classic Chardonnay and Pinot Noir grapes for the drier palates of the English people. This was an original idea for the time and was intended to contrast the prestigious sweeter French bubblies that were becoming popular in Europe. In just a few years, Contratto gained great success in Italy as well, entering the Vatican courts and becoming the official supplier to the royal family. More than 140 years of great success allowed the Contratto family to expand its production and add red wines, still white wines, Vermouths and syrups to its distinguished sparkling wines. First sold in 1993 to the Bocchino family of Canelli, who were well-known grappa distillers, in 2011 the property passed into the hands of Giorgio Rivetti. He was the owner of the La Spinetta company, who wanted to create a separate structure and continue producing in the name of quality, significantly increasing and expanding the area under vine.
Today Giorgio Rivetti has added around 40 new hectares to the Contratto estate in the town of Bossolasco, which is a particularly suitable area of the Langhe. The vines, mainly Chardonnay and Pinot Noir, are trained with respect for tradition, producing bunches that are rich in varietal aromas and full of flavour. In the ancient and evocative underground cellars the sur lattes bottles are stored, just like in the old days. The labels still bear the original trademark created by the Contratto family in the 1920s.
The Contratto range offers great Classic Method sparkling wines with a refined, clean and luxurious profile. The "For England" wines still preserve the name dedicated to the old bubbles that were exported to England and were particularly appreciated by the British as they were (and still are today) dry and consequently not dosed. These sparkling wines are designed to rediscover the past and the charm of one of Italy's most important denominations.
The wines of Contratto