La Bollina
Modern style and territorial character in Alto Monferrato wines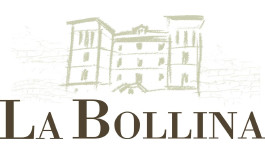 La Bollina is a modern and innovative winery in Alto Monferrato, one of the most promising producers of Gavi and other typical wines of the Scrivia Valley. It is based in a magnificent estate, once owned by the Marquises Figari of Genoa, and now covering 120 hectares of landscape, with a 19th century Art Nouveau villa transformed into a luxury hotel, a large golf course and immense chestnut woodlands.
The 28 hectares of vineyards of Tenuta La Bollina are set in this fascinating context, mostly cultivated with Cortese grapes, the native vine from which Gavi is made. The other varieties cultivated are Chardonnay, Nebbiolo and Barbera. The vines are planted on mainly clayey soils, with the presence of marl, and enjoy excellent south and south-east exposures. The grapes harvested here arrive in a cellar that has been completely renovated and equipped with the most modern and efficient technologies. The wine production is managed by Marco Roveda, with the advice of the enologist Andrea Zampieri and the agronomist Franco Fierri. The three make up a team of a high professional level, to whom goes the merit of having undertaken important choices for the enhancement of the territory and the name.
The production choice of the La Bollina winery is oriented towards high quality wines that are able to express the peculiarities and charm of the terroir. The labels are easily recognisable by the images of bicycles and velocipedes which are both a symbol of territorial rebirth and a tribute to two great cyclists from the hills between Piedmont and Liguria: Costante Girardengo and Fausto Coppi. All the wines produced have a modern and pleasant style, marked by great preservability and softness. Balance, freshness and expressive immediacy are the main qualities of all the bottles produced. Qualities that arise from the combination of the environment and a modern, up-to-date style.
The wines of La Bollina