La Guardiense
A great chapter in the history of wine in Campania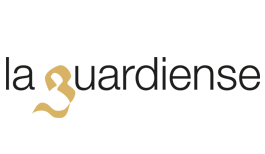 The La Guardiense winery is one of the most important producers in southern Italy and the largest cooperative in the Campania region, which has become a reference point for the efficiency and high quality of its wines. It is located in the town of Santa Lucia di Guardia Sanframondi, in the Sannio Beneventano area, surrounded by the Matese mountains, and home to wines such as Falanghina, Fiano, Greco, Aglianico and Piedirosso.
The winery was founded in 1960 by 33 visionary farmers, convinced that it was necessary to join forces to protect themselves from the changing nature of markets and vintages. Today the co-operative has more than 1000 vine-growing members, for a total of 1500 hectares of vineyards (600 dedicated to Falanghina grapes alone) spread over the hills of Benevento, at an altitude of about 350 metres. In over 50 years of history, the constant desire to improve, the strong territorial connection and the aspiration to express the peculiarities of Campania's terroir in the best possible way have driven the members to acquire new agronomic knowledge, to equip themselves with the most modern technological equipment, to favour renewable energy, using an innovative photovoltaic system, and to benefit from the help and advice of the best professionals, such as the enologist Riccardo Cotarella.
The wines are produced from the historical vines of the Campania region and stand out for their extraordinary quality/price ratio. The efficiency and expertise of the Guardiense cellars is based on the desire to offer the best wines of the territory at a price accessible to the public. This has resulted in very typical and expressive products, including reds, whites and rosés with a strong mineral note. These wines honour a history of excellent cooperation in southern Italy and promise a glorious future.
The wines of La Guardiense