Mastroberardino
The important reference point for wine from Campania in Irpinia: between history and modernity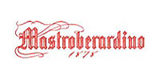 The Mastroberardino winery is one of the oldest and most important producers in Campania, whose history is identified with that of a family of entrepreneurial winemakers who have become a point of reference on the Italian wine scene. The origins of this family business date back to the mid-eighteenth century and the winery was officially founded in 1878 in Atripalda, just outside the town of Avellino, by Angelo Mastroberardino, great-grandfather of the current owner and Knight of the Order of the Italian Crown. From the end of the nineteenth century, after the phylloxera disaster that destroyed part of the great vineyard heritage, the family engaged in a long process of rediscovery and enhancement of native vines and typical Irpinia, so much so that Antonio Mastroberardino, awarded the title of Cavaliere del Lavoro in 1994, earned the nickname of "archaeologist of the vines". The same commitment and passion now drive the work of his son Pietro, who reaps the fruits of more than a century and a half of research in the vineyard and in the cellar, guided by the desire to best express the excellence of the territory and the genius loci. If today Irpinia, with its typical grape varieties such as Aglianico, Fiano and Greco di Tufo, is known and appreciated throughout the world, it is thanks to this family of winegrowers, to whom important and significant historical merit must be attributed.
Mastroberardino is today a great production reality known throughout the world, divided into different estates for a total of 250 hectares of vineyards. The main estates are those of: Montemarani, where Taurasi is made; San Michele and Montefalcione, home to excellent expressions of Fiano; Montefusco, cradle of Greco; Mirabella, where Falanghina is produced. Today, the company's mission still focuses on making the most of the typical grapes of Campania: Greco di Tufo, Fiano, Falanghina and Aglianico in particular, with a special focus on the expression of Taurasi, of which the family was the first great promoter throughout the world, taking a pioneering role in its rediscovery. The desire to rediscover the origins of the Campanian tradition led the family, starting in the 1990s, to undertake the project called "Villa dei Misteri", aimed at studying the winemaking methods of ancient Pompeii and the cultivation of a vineyard near the archaeological excavations. Passion, the desire to rediscover one's roots and to translate this research into results of excellence have remained the fundamental criteria of the entire production, the result of an extraordinary combination of history, legend, tradition and modernity.
Other Informations
''No winery in Campania, and perhaps not even in Italy, has been able to better combine history with modernity''.
- Vitae Guide 2018
The wines of Mastroberardino