Santadi
The renaissance of Sulcis wine: the great interpretations of Carignano and Vermentino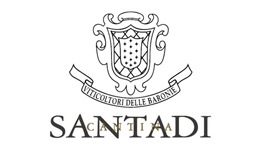 The Santadi winery is one of the most famous producers in the Sardinia region and the creator of an important project for the enological development of the Sulcis area, a splendid south-western area of the island. It was founded in 1960 and today has more than 200 wine-growing members, making it one of the most authoritative and successful social wineries in Italy. Starting in the mid-1980s, thanks to the passion and expertise of the famous winemaker Giacomo Tachis and the vision of President Antonello Pilloni, the cooperative began marketing bottled wine, achieving a significant increase in quality in just a few years. In this way, the excellence of the territory based on Carignano, the most typical variety of Sucis, became known worldwide.
The objective of the Santadi winery has always been ambitious: to enhance the value of the Carignano del Sulcis grape, taking it to previously unimaginable heights of quality. Today Santadi can undoubtedly claim to have accomplished this mission. The Carignano, in fact, has carved out a leading role in the Italian wine scene, thanks to elegant and fine red wines such as, for example, the Terre Brune, produced since 1984, which was the first Sardinian wine aged in barriques. A modern and international style has always characterised the production, increasing the number of consumers and connoisseurs of the labels and exposing the territorial peculiarities of Sulcis to wine lovers from all over the world.
Today Santadi can boast of having around 200 members and properties that extend up to 30 km from the winery, at altitudes between 0 and 170 metres, populated mainly by Carignano and Vermentino alberello vines. The vast and evocative barrique cellar, as well as a modern and innovative analysis laboratory, are the jewels in the crown of a winery that has made a significant contribution to introducing innovation and new skills to an area previously unknown to the general public. This has led to the creation of a range of highly prestigious wines, including, in addition to the aforementioned Terre Brune, Carignano Rocca Rubia and Grotta Rossa, as well as highly expressive white wines such as Vermentino Cala Silente.
Other Informations
"The best social winery in the south of South Tyrol: this is how we could briefly summarise the great Sulcis winery, which in almost 50 years has spread Carignano del Sulcis throughout Italy and the world, setting an example for other cooperatives".
- Slowine Guide 2015
The wines of Santadi