Skerk
Macerated white and territorial reds: faithful portraits of Carso from Sandi Skerk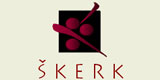 Skerk is a winery that has made a name for itself among orange wine enthusiasts thanks to its expressions of exceptional class and personality, a true reflection of the terroir of the Karst region. The estate is based precisely in Duino Aurisina, a town in the province of Trieste where Sandi Skerk officially embarked on its winemaking journey in 1987. Also worth mentioning is the impressive cellar dug into the karst rock inside of which the bottles rest at an optimal temperature and humidity.
The Skerk estate has 8 hectares of vineyards located on the Karst Plateau, among the impervious hills overlooking the beautiful Gulf of Trieste, just three kilometers from the sea. Here, at an altitude of about 250 meters, Sandi Skerk raises Vitovksa, Malvasia Istriana, Teran, Sauvignon Blanc and Pinot Grigio, grape varieties intimately linked to the local winemaking tradition. These varieties benefit from the red, stony soils rich in iron and limestone, as well as the mild, breezy climate that characterizes the area. In both the vineyard and the winery, Sandi adopts minimalist and genuine operations that respect the health of the environment, biodiversity and the characteristics of the land, following the principles of organic farming and using non-invasive winemaking practices. Fermentations occur spontaneously in wooden vats thanks to the presence of indigenous yeasts and are accompanied by macerations on the skins that are not excessively prolonged for the white grapes. The ensuing aging phase takes place in oak barrels of several passages, and the wines are finally bottled without undergoing any clarification or filtration.
Sandi Skerk was one of the major rediscoverers of Vitovksa, an indigenous variety that the winemaker began to vinify when it was still customary to employ it in blends with other grapes. In addition to Vitovska, Sandi makes a macerated white from Malvasia Istriana, a 100% Teran and the orange wine 'Ograde,' from a roughly equivalent blend of Malvasia Istriana, Pinot Grigio, Sauvignon Blanc and Vitovska. All labels capable of showing the soul of the Karst.
Other Informations
Azienda Agricola Skerk, Località Prepotto, 21/A - Duino Aurisina (TS)
Skerk's wines