Terlano
A quality winery and point of reference for Alto Adige wines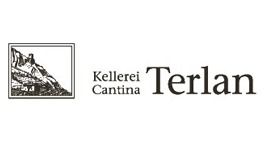 Cantina Terlano is a historic winery in South Tyrol (Alto Adige) that has dedicated itself to wine production with great skill and passion for almost 120 years. The 143 members who bring their grapes to this historic winery - a perfect cooperative mechanism that has spread the charisma of South Tyrolean wines all over the world - are responsible for the wide range of top-quality wines. This is not the only secret of the Terlano winery: the potential of the soil has been exploited to the fullest by winemaker Rudi Kofler, who has invested in the quality of the bottles, enabling Terlano to become one of the most important wine producers in the world.
The vineyards of Cantina Terlano are ideally located at the foot of the Tschöggel mountain on volcanic soil that is perfect for growing grapes: the red porphyry preserves the heat, while the sandstone allows the water to drain into the earth, keeping the roots of the vines dry. The diversity of the vineyards has contributed to the development of a "cru culture" that is unique in its area, that of the left bank of the Adige River, with a climate that benefits from considerable temperature fluctuations thanks also to the altitude of the vineyards, which reaches 900 metres above sea level.
The entire range of wines from Cantina Terlano reflect charisma, identity, freshness and minerality, thanks also to the expert work in the cellar with wooden barrels and maturation on the lees for many years. The white wines are excellent, outstanding for their structure, longevity and breadth of aroma: Pinot Bianco and Sauvignon are certainly among the most popular products of Cantina Terlano. Terlano also produces excellent red wines, starting with indigenous grape varieties such as Lagrein and Schiava and extending to Pinot Noir and Merlot. The pursuit of quality and the wise reinterpretation of tradition are perhaps the two most important ingredients in the recipe for the success of Cantina Terlano, ingredients that have earned the winery great international recognition and appreciation on many local tables.
Other Informations
Via Colli d'argento 7, 39018 - Terlano (BZ)
"Terlano's special soil, old vines and low yields per hectare, as well as the virtuous work in the vineyard, guarantee the prerequisites for creating time-defying wines with which the winery has built its reputation."
- Slowine Guide 2016
The wines of Cantina Terlano