Terlano
Long life, complexity and character - these are the primary features of Cantina Terlano's quality wines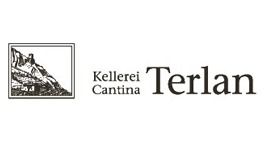 Terlano winery is a historical reality of South Tyrol, which for nearly 120 years has been making bottles with great skill and passion. The merit of the wide range of labels by the excellent quality is due to the 150 members, giving the grapes to the historic winery that has existed since 1893 and since 1920 in its current location.
The vineyards are located in an ideal location, at the foot of Mount Tschöggel, on land perfect for growing grapes: porphyry manages to retain the heat, while the sandstone let the water flow into the ground, keeping the dry roots of the plant.
This is not the only secret of Cantina Terlano. In fact, the potential of the land have been fully exploited by the enologist Rudi Kofler, who has been able to invest in the quality of the bottles, allowing Terlano winery to rank among the most important wine scope. The prestige of this winery is due primarily to white wines, really appreciable structure, longevity and breadth of perfumes. Pinot Blanc and Sauvignon are certainly the two most prized bottles of the Cantina Terlano.
Even the Chardonnay and Cuvee Terlano confirm the high quality of the wine produced in this South Tyrolean reality, thanks to a valuable harmony and refinement. Terlano winery also produces excellent red wines, from native grape varieties like Lagrein and Schiava to get up to Pinot Noir and Merlot. The search for quality and the expert review of the tradition are perhaps the two most important ingredients in the recipe for success of Terlano winery, ingredients that have allowed this reality numerous awards and appreciation of many wine lovers.
Information
Via Colli d'argento 7, 39018 - Terlano (BZ)
Terlano wines