Marziano Abbona
From the heart of the Langhe, Abbona narrates the tradition of fine Piedmontese wine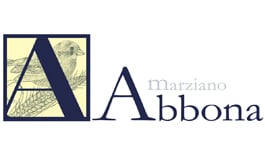 Tradition and innovation are two elements that the Marziano Abbona winery has been skillfully weaving together for decades, resulting in a winning combination. Within the municipality of Dogliani, in the southern Langhe, this Piedmontese winery has been committed to the enhancement of the area for three generations, offering different insights into Langhe excellence. It all began in the early 1900s with Marziano Abbona and his son Celso, stubborn and scrupulous men who embodied the true Langhe spirit, among the first to believe in the Dogliani territory and its princely variety: Dolcetto. After Celso's death in 1964, his sons Marziano and Enrico picked up his legacy, tenaciously following up the arduous path undertaken by their father and grandfather before him. Over the following decades, the winery invested in new hectares in the Barolo area and in cellar technologies, bringing production to a sublime level of quality. Today Marziano, after the death of his brother Enrico, is joined by his daughters Chiara and Mara, to whom he in turn has passed on his passion for his roots and his land. With a constant eye on the future, in 2020 the Abbona family opened a relais nestled among the vineyards, destined to host wine tourists from all over the world.
The estate vineyards cover an area of about 60 hectares, cultivated in a sustainable way that culminated with the transition to organic farming in 2021. Following the French model, the different plots have been classified according to quality level, so that only the best crus go to make up the fine labels. A place of honor within the Abbona's ampelographic platform is occupied by Dolcetto, the grape variety-symbol of the Dogliani territory. The other varieties grown are the native Nebbiolo, Barbera, Favorita, Arneis and Moscato, as well as the international Viognier, Chardonnay and Pinot Noir.
Marziano Abbona's range of wines is extensive, with labels spanning the most prestigious and renowned appellations of the Lower Piedmont such as Barolo, Barbaresco, Dogliani, Roero Arneis and Alta Langa. Each bottle tells a story, ranging from the personality of the Dogliani 'Papa Celso' to the austere elegance of the Barolo 'Pressenda' and 'Ravera,' via the fat softness of the Bianco 'Cinerino' and the finesse of the Metodo Classico.
The wines of Abbona Marziano