Aberlour
The magic whisky from a Druidic village and its ancient and mysterious aromas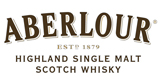 The historic Distillery Aberlour is located in the same name village of Speyside area, so named for the mysterious and evocative atmosphere of the landscape; 'Aberlour' derives from Gaelic 'Obar Lobhai', which means 'the mouth of the stream that murmurs'.
The village was once inhabited by a community of druids that, in a context of mystical connection with the natural elements, used the spring waters of the place to create elixirs, potions and medicines. The modern distillery was founded in 1879 by philanthropist and benefactor James Flaming; rebuilt in 1898, he renewed the production techniques at the beginning of the twentieth century, acquiring the characteristic stills with a wide base and swan neck powered by steam. With a strong ancient and fascinating tradition, the whiskies of Aberlour are now famous for the great care with which they are produced and for their unique style inextricably tied to the magical and charming village and to the springs that bead it.
For producing the Aberlour Single Malt it is used a high quality barley, macerated in pure spring water for two days. The malting process is traditionally performed on the floor without the use of peat, to prevent that the smoky aromas alter those of natural barley. The malt is ground and left to ferment with spring water; 48 hours later it yields a must from the content of 8.5%, then subjected to double distillation in the characteristic and spectacular stills of Aberlour. The maturing process lasts for at least 10 years in carefully selected oak barrels. Sometimes it even makes a double maturation in different woods, to get a sensational aromatic profile.
The Single Malt range from Aberlour Distillery is the result of techniques and tools of production remained unchanged through time, offering diversified whiskies for years of aging and type of barrel used. Perfect whiskies, characterized by the magical and distinctive style of Aberlour.
Aberlour whisky