Castello di Stefanago
Discovering wines that represent their territory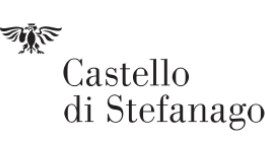 The Castello di Stefanago winery is a historic producer in the Oltrepò Pavese area that has always been committed to producing local wines, gradually adopting more innovative and less interventionist winemaking techniques. The Baruffaldi family has been producing wine for five generations in the town of Borgo Priolo, in the province of Pavia, but only recently decided to really invest in the quality of the final product. Today, the brothers Antonio and Giacomo have taken over the agronomic and enological management of the family business, leaving the commercial and administrative management to their sister Antonietta.
Castello di Stefanago now owns 20 hectares of vineyards, located on clayey and sandy soils rich in chalk at an altitude of about 400 metres above sea level. They are characterised by perfect exposure to the sun, daily breezes and exceptional temperature ranges between day and night that allow the grapes to ripen perfectly. This is a favourable location for the cultivation of varieties that are widespread in the area such as Pinot Noir, Croatina, Riesling Renano, Muller Thurgau and Chardonnay. The care of the vineyard, converted to organic farming in 1998, is the starting point for the new generation's work in the company; inter-row seeding, green manure practice and green pruning are all carried out to reduce systemic treatments to a minimum. An equally gentle and sensitive approach is adopted in the cellar. Fermentation is all spontaneous, using only indigenous yeasts in stainless steel containers with no temperature control, and the quantity of sulphites in the bottle is kept to a minimum.
Castello di Stefanago is best known for having created an exceptional and innovative version of sparkling wine, which is the result of a production method known as "Ancestrale". This method is halfway between a traditional Classic Method and re-fermentation in the bottle: the second fermentation takes place spontaneously in the bottle due to the natural presence of yeasts and residual sugars, and is subjected to dégorgement before being put on sale. The wines of Castello di Stefanago are bound together by the common factor of drinkability, as well as the exceptional relationship between quality and price. The final products are never over the top and are well suited to a variety of different palates thanks to a taste that is always enjoyable and rich in fruity flavours.
The wines of Castello di Stefanago