Cantine Ceci
The reference point of the high quality Lambrusco in the world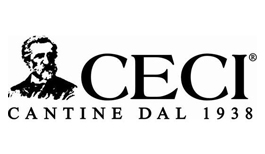 The Winery of Ceci's family is a landmark of the high quality Lambrusco, a modern and lively winery that has managed to combine the oenological traditions with the attention to the market rends, creating good and captivating wines. The origins of the winery date back to the 30s, when Otello Ceci, famous innkeeper of Parma, realized for his cusotmers not only delicious food but also a typical wine served in bowls.
The children and the grandchildren of Otello continued his works: since the 90's the family inaugurated a modern production of Lambrusco, dedicating to Otello the best wine: Otello Nero di Lambrusco.
Now Ceci's Winery has grown up and It has become a symbol, thanks to the passion and competence of its members, to the hard work in the vineyard and to the innovations. Ceci's Winery has been showing to the world the best characteristics of Lambrusco, making a fine and hight quality sparkling wine.
Other Informations
Cantine Ceci S.p.A., Via Provinciale, 99A - 43056 Torrile (PR)
Ceci wines