Cantine Ceci
The reference point of the high quality Lambrusco in the world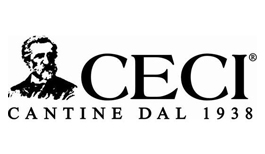 Cantine Ceci has become an undisputed point of reference for quality Lambrusco, a modern and lively entity that has been able to combine a bond with tradition with attention to market trends, creating good and appealing wines that are innovative in taste and appearance. The headquarters are in Torrile, a town in the province of Parma traditionally associated with viticulture and the production of sparkling wines. The winery's origins date back to the 1930s, when Otello Ceci, a famous host in the Parma area, noticed that his customers loved not only his culinary specialties but also the dark-colored Lambrusco he served in bowls.
The legacy of Otello, who inaugurated his own Lambrusco production and is now considered the progenitor of Cantine Ceci, was picked up by his children and then his grandchildren. Beginning in the 1990s, the family gave a modern and original imprint to production, dedicating the flagship Lambrusco line to the memory of their grandfather and creating a wine destined to make the history of Emilian oenology: the Otello Nero, the first Lambrusco to obtain the recognition of 5 bunches in the Bibenda guide classification. The positive opinions expressed by critics have been abundantly reflected in the enthusiastic appreciation this label enjoys among consumers around the world.
In just a few years, the Ceci winery has grown so much that it has become a symbol of Emilian Lambrusco in the world. All this is thanks to passion and expertise, as well as to the indissoluble union between direct relationship with the land and and constant qualitative innovation. The merits that can be attributed to the Ceci family are many, but the most significant one is to have demonstrated to everyone the very high potential of Lambrusco, promoting it to a refined and high-class wine, freeing it from its rustic and popular origins. Today the winery also produces other wines from the Emilian tradition, always combined in terms of finesse, pleasantness and modern expressiveness.
Other Informations
Cantine Ceci S.p.A., Via Provinciale, 99A - 43056 Torrile (PR)
Ceci's wines