Foss Marai
Territoriality, modernity and quality: the symbol of excellence of Prosecco di Valdobbiadene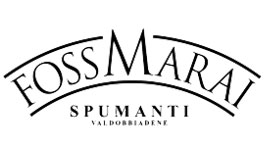 Foss Marai is certainly one of the essential names in the world of quality Prosecco and Italian winemaking. It is a visionary and ambitious winery that has decided to focus firmly on quality and elegance, but also on remaining faithful to the characteristics of a territory that is famous and well-suited to the production of wines and sparkling wines. As a result, it has earned numerous accolades and a leading role on the national and international scene, where it plays, since many years, an important role as a testimonial of Made in Italy sparkling wines. It derives its name from the valley in the Guia area, called Marai, in the heart of the Prosecco DOCG territory of Conegliano Valdobbiadene, where the winery is located, in a splendid hilly setting covered with Glera vines.
The Foss Marai winery is a large and renowned producer that has remained family-run since its foundation in 1986. From the original founding location, in Via Strada di Guia 109, converted from an ancient stone, brick and wood structure that was once used as a spinning mill, one of the estate's most famous sparkling wines gets its name. Owner Carlo Biasiotto continues to invest with great determination in the pursuit of excellence with attention to detail and aesthetic sensitivity. This is evident in the refined design of the bottles, studied to express, also visually, the value and importance of Foss Marai wines. The aim of the Foss Marai winery is to build a close bond with modernity and technological innovation. This is achieved without conforming to trends and using craftsmanship, local and family traditions as an indispensable foundation for advancing into the future and becoming known worldwide.
It is one of the most appreciated and esteemed Italian sparkling wine producers, with a range of Prosecco and Cartizze wines of the highest calibre. The ambitious aim of the Foss Marai winery is to produce unique, quality sparkling wines, while constantly improving. This is why the motto chosen to sum up the Biasotto family's vision is "leniter in itinere", which in Latin means "slowly walking the journey". A journey that started long ago and continues as a guarantee of excellence and quality.
The Prosecco of Foss Marai