Vie di Romans
The aromatic richness of the Isonzo valley: a reference point for Friuli wines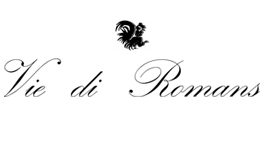 The Vie di Romans winery has been owned by the Gallo family since the early 1900s and owes its name to its location along an ancient Roman road, known in the local jargon as the Vie di Romans. Since 1978 it has been run, with passion and competence, by Gianfranco Gallo, who through rigorous and daring viticultural choices, combined with careful enological interpretation, has established a unique quality style with great personality. Already in his youth Gianfranco was recognised as a master in the world of wine, as he knew the grapes, techniques and methods to produce a wine according to recipe. And so, from 1984, the winery began a journey of great growth where the wines expressed quality and Gianfranco's expert hand guided the production and accompanied the processes.
The pursuit of ever-increasing quality has distinguished Vie di Romans wine production over the last 30 years, making it a virtuous model on the Italian wine scene. The almost symbiotic interaction with the Isonzo valley and the search for perfection in the cultivation of the various vineyards in the area characterise the entire production line. Due to the composition of the soil and the climatic conditions, the cultivation of white vines (Chardonnay, Sauvignon, Pinot Grigio, Tocai Friulano) is favoured, all of which are marketed at least 2 years after the harvest, i.e. at the right period of maturity, although the range does not lack excellent Merlot-based reds. The vineyards cover an area of 60 hectares and the yields are kept very low in order to concentrate the content of every single grape.
Vie di Romans wines enhance the best characteristics of the Friuli Isonzo denomination, becoming great wines with a rich and complex aromatic bouquet. The quality of the bottles produced is due both to Gianfranco Gallo's expertise and to the unique characteristics of the terroir, among which the red soil, rich in fine gravel, iron oxides and aluminium, stands out. All this has contributed to making Vie di Romans one of the protagonists of the Italian wine star system, with historic products that have become reference models throughout Friuli and beyond. A prestigious winery, always guaranteeing quality.
Other Informations
Località Vie di Romans, 1, 34070 - Mariano del Friuli (GO)
The wines of Vie di Romans