Vie di Romans
The richness of the Isonzo Valley: a reference winery in Friuli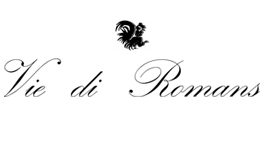 Owned by Gallo family from the beginning of 20th century, the company owes its name to the location of the winery, which is located along an ancient Roman road, in the jargon of the Vie di Romans. Since 1978 the company has been managed by Gianfranco Gallo, through rigorous and bold wine choices, combined with careful interpretation of wine, affirming a great quality style.
The search for higher and higher quality has marked the production of this winery for 20 years, becoming an example in the Italian wine scene. The almost symbiotic interaction with the territory and the pursuit of perfection for the cultivation of many vineyards characterize Vie di Romans winery.
For composition of the soil and climatic conditions, it favors the cultivation of white varieties, Chardonnay, Sauvignon, Pinot Grigio, Tocai Friulano, boasting in the range also excellent reds made from Merlot.
Information
Sauvignon, Chardonnay, Pinot Grigio, Malvasia Istriana
Località Vie di Romans, 1, 34070 - Mariano del Friuli (GO)
Vie di Romans wines