Braida - Giacomo Bologna
The great name of Barbera wine in the world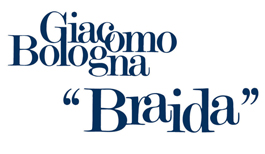 The Braida winery is a great example of passion and dedication, handed down over several generations, and has become an important part of Piedmontese winemaking history. This significant family business was founded in 1961 by Giacomo Bologna, an enlightened winemaker who inherited the vineyard, the nickname Braida and a profound passion for the art of making wine from his father Giuseppe. Today Giacomo is considered throughout the world as the father of modern quality Barbera, and his children, Giuseppe and Raffaella, carry on this legacy with pride and competence, continuing to produce famous, award-winning and exemplary wines, which are symbols of passion and professionalism.
Giacomo Bologna Braida is credited with having restored the dignity of Barbera d'Asti wine, stripping it of its rustic appearance and transforming it into a prestigious red wine, in great demand worldwide. The great intuition was to enhance the characteristics of the land and those of the vine by using French barriques for ageing. The use of small French barrels was then unheard of in Italy, but it quickly proved to be a brilliant and highly successful groundbreaking idea. The long ageing in barriques gave rise to the winery's two legendary labels: "Bricco dell'Uccellone" and "Bricco della Bigotta", two true benchmarks of the variety, together with many other interpretations of Barbera that impress with their energy, balance, precision and quality. Among these, the sparkling "Monella" stands out for its vivacity, freshness and popularity.
The estate vineyards extend over 56 hectares near Asti, in particular in Rocchetta Tanaro, Castelnuovo Calcea, Costigliole d'Asti, Mango d'Alba and Trezzo Tinella. The beautiful and evocative vineyards are home not only to Barbera vines but also to Moscato, Brachetto, Grignolino, Chardonnay and others. The result is a collection of very prestigious expressions with very high quality standards: a range of modern and very expressive Braida wines, decorated with very attractive designer labels and that, in their diversity, show a great passion for quality and excellence.
The wines of Braida