Marco De Bartoli
A wine legend in the warm and sunny lands of Marsala and Pantelleria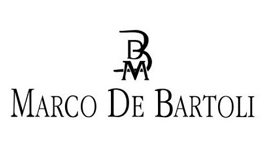 The De Bartoli winery was founded in 1978, when the young Marco, with a degree in agronomy and a passion for racing cars, took over from his mother Josephine in the management of Baglio Samperi, the estate where the grapes for the production of Marsala wine had been cultivated for over two centuries. At that time the denomination was in complete decline, as was the old family property, but Marco De Bartoli quickly managed to make his vineyards the driving force behind a new way of producing wine in Sicily, based on quality and ancient, virtuous traditions, giving rise to Marsala, passito and dry wines that have made wine history throughout the South of Italy and the world.
Today, his children Josephine, Renato and Sebastiano have taken up their father's legacy: the wines of the De Bartoli winery reach the highest quality levels and the family estate is presented in all its splendour as a 19th century farmhouse. The name of Marco De Bartoli has become legendary and his production techniques, innovative but drawn from tradition, have become a standard throughout the territory: for example, the introduction of the Soleras Method, brought to Sicily by Benjamin Ingham in 1812 and restored by Marco in the 1970s.
The wines of the De Bartoli winery are top-notch expressions of a generous and evocative territory, in which the Samperi vineyards, situated on an alluvial basin, and those of Bukkuram, illuminated by an African sun, stand out. While De Bartoli's name is mainly linked to that of Marsala and the great and exuberant passito wines of Pantelleria, the winery owes its international fame to a vast and varied range of wines made from typical local varieties: Grillo, Zibibbo, Catarratto and Perricone. The historic and prestigious labels of Vecchio Samperi, Bukkuram, Marsala Vergine and Superiore are thus flanked by new and surprising expressions born from Sicily's best agricultural and winemaking traditions.
The wines of Marco De Bartoli