Demerara Distillers
Several and rare stills for a unique Guyanese rum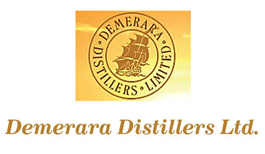 Demerara Distillers is proudly known for its unmissable rum produced in the Republic of Guyana. Thanks to Christopher Columbus, shortly after the discovery of America, in Guyana started the cultivation of sugar cane, whose refining gives to the world the excellent rum. The territory of Demerara is particularly fertile, as it crossed from one of the longest rivers in the world: the Rio Demerara. On its banks it is in fact cultivated one of the best types of sugar cane in the world, making the rum produced in this region a separate category in the diverse and complex universe of the sweet spirit.
Despite a tradition of three centuries, Demerara Distillers is a relatively young distillery, born from the merger of the various distilleries and producers of sugar cane in the area. The different stills used (including continuous and discontinuous we can count 12!) are the original ones used hundreds of years ago from several distilleries and still in perfect working condition. For example, the use of the Double Wooden Pot Still (Versailles) gives a full-bodied character and rich aromas; the Wooden Coffey Still (known as Enmore) guarantees fruity flavors and rum with medium body; finally, the French Savalle Still (Albion) produces a rum ranging from a light to a strong bodied. The Demerara Distillers has also the largest stock of rum over 12 years in the world.
Among its products, they deserve special mention the "Demerara - Velier". Velier is in fact the world's only company with the possibility to search for and select the old barrels of the distillery, thanks to the strong friendship between Luca Gargano and Yesu Persaud, chairman of Demerara. These "Original bottlings" are selections of rums from individual stills of Demerara, usually in limited quantities, and bottled at full strength. They are considered the best expressions of the rum aged in the tropical climate of Guyana. An unmissable rum for enthusiasts and collectors around the world.
Other Informations
Demerara Distillers Limited, E Bank Public Road - Guyana
The Rum by Demerara - Velier