Fleury
The story of a biodynamic connection with southern Champagne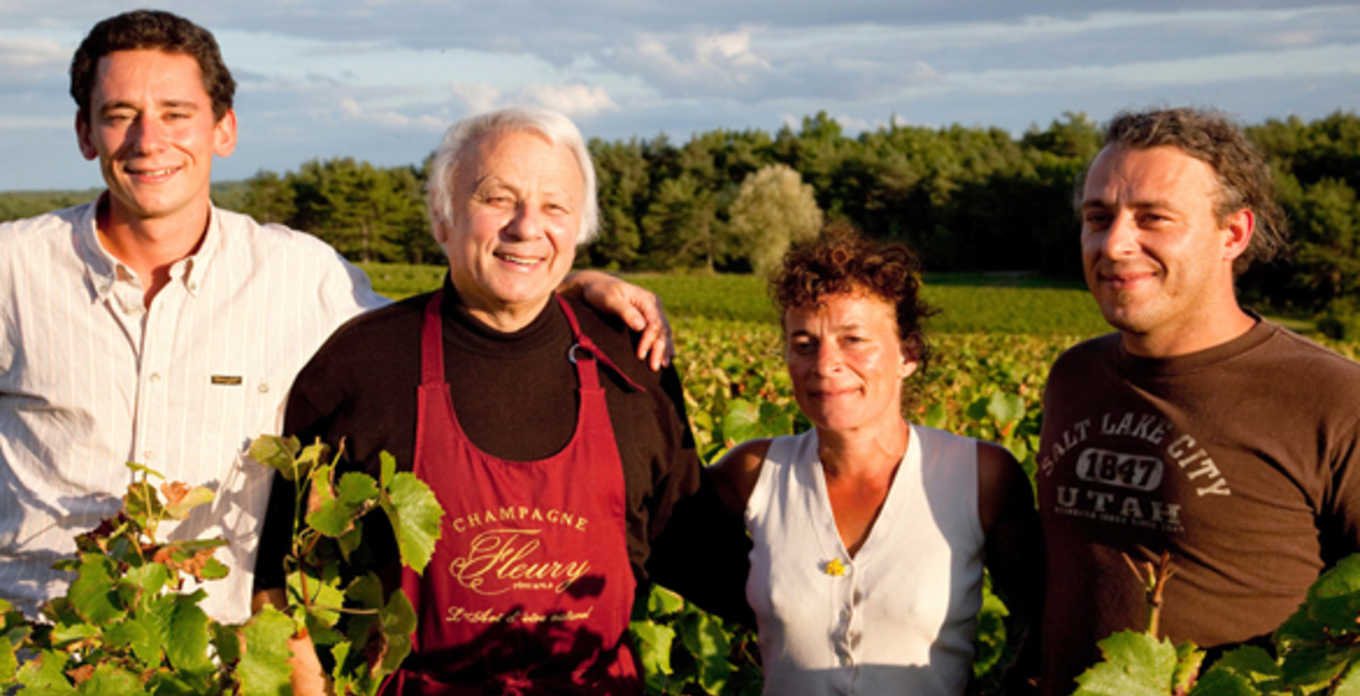 The Fleury Maison was established in 1985 thanks to the enological and pioneering spirit of Emile Fleury, who revived the family vineyards after the disastrous effects of phylloxera by replanting Pinot Noir cuttings. With a strong interest in astronomy, his son Jean-Pierre seemed to want to look up at the stars rather than down towards the roots of the vines. But is there really no link between the sky and the earth? The principles of Rudolf Steiner would seem to be the connecting link. The year 1989 marked a turning point, a year of courage and innovation for the Fleury winery. It became the first Champagne producer to convert its own vineyards to biodynamic agriculture, with subsequent certification on the label. Nourishing the soil with compost, paying attention to the cosmic rhythm of the moon's calendar and developing natural biodiversity in the vineyard are the traditional values which have always guided Fleury's winemakers.
This historic house has forged a deep and lasting bond with the area of production that has been largely neglected and for a long time ignored by the most fundamentalist Champagnists, notably the Côte des Bars or Aube. The geographical position, which is further south than the more popular Epernay and Reims regions, and the morphological composition of the soil, which is less chalky and more calcareous, have made this area more similar to its cousin Burgundy than to Champagne. The added value of the Fleury maison is exactly that of conveying this unique territorial typicality, glass by glass. One of the great innovations that have been introduced by the fourth generation, who currently run the estate, is the creation of a long underground tunnel full of 60-hectolitre oak barrels. These are used for both fermentation and ageing, together with the classic steel vats, which are internally glazed.
Over the years, Fleury has succeeded in renewing itself and keeping up with the times, while always remaining faithful to ancient traditions. The second fermentation of the base wine has always taken place in corked bottles (locally known as bouchés sous liège) rather than with the classic crown, which necessarily involves dégorgement à la main, a rare occurrence in Champagne! This method is certainly more costly in terms of time, space and financial investment, although it is undoubtedly better for the micro-oxygenation, complexity and elegance of the olfactory profile. This is a range that deserves to be tasted, again and again, and savoured over time, with the awareness of being able to experience the truest and most sincere flavour of southern Champagne with every sip!
Other Informations
43 Grande Rue - 10250, Courteron, Francia
The Champagnes of Fleury