Piper Heidsieck
A Champagne house that has been producing excellence and luxury since 1785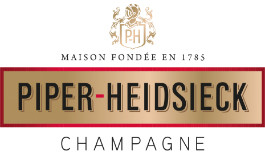 Every great story originates from a very special encounter, such as the one Florens-Louis Heidsieck had with Agathe Perthois, the woman to whom Florens decided to dedicate his first product after discovering the Champagne region of France. Florens has an extremely ambitious soul, and after establishing "Heidsieck & Cie", he pursued the particular dream of creating a special cuvée for the Queen of France, Marie Antoinette, which could be enjoyed during the day. After a few months, the blend was ready and the queen was so enthusiastic about it that she became the first ambassador for Heidsieck Champagne.
It was a dazzling start for a house that, over the following decades, consolidated its success, becoming the favourite drink of 20th century Hollywood actors. Even the famous Marilyn Monroe confessed to falling asleep with a few drops of Chanel and waking up only thanks to a glass of Piper Heidsieck Champagne. Today the winery has a modern structure, and is part of the EPI industrial group, which is led by Christopher Descours, who is committed to conveying the concept of artisanship, luxury and savoir-faire that has always distinguished the work of the house to the world. The three typical Champagne terroir varieties - Chardonnay, Pinot Noir and Pinot Meunier - are grown in the rows of vineyards owned by Piper Heidsieck and his donors, with whom the house has enjoyed a loyal relationship for generations. The vines, which can be up to 60 years old, grow on qualitatively important plots and crus, located in the Montagne de Reims and the Côte des Bar areas, and are carefully monitored with the sole objective of obtaining excellent grapes. In the cellar, two huge steel vats dominate the scene, where the different final blends of each label are assembled. This is a crucial moment during which the Chef de Caves and his team are engaged in hundreds of tastings to choose the identity of each product, over a period that lasts from January to May.
Pipier Heidsieck produces several high-quality labels, in which the Champagne denomination is defined by unique nuances and sensations that reflect the value of a centuries-old tradition. There is no better way to start exploring the range of bottles produced than with the Cuvée Brut, which is a blend of Chardonnay, Pinot Noir and Pinot Meunier grapes from more than a hundred different crus in the region.
Other Informations
12, Allée du Vignoble - 51100 Reims (France)
The Champagnes of Piper Heidsieck