Poderi Luigi Einaudi
From the love of the land and the vineyards, great wines that narrate the story of the President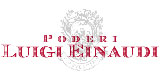 Luigi Einaudi's winery is located in the town of Dogliani, in the Langhe area, which is particularly suited to the production of great Piedmontese wines. Luigi Einaudi was a pure "langarolo" (from the Langhe): he was born in Carrù in 1874 and when he was very young, after the death of his father, he moved to his mother's house in nearby Dogliani. From an early age Luigi, in addition to his passion for his studies, showed a great love for country life and viticulture in particular. Convinced that a great wine could only come from a great vineyard, when he was only 23 years old, he bought the "San Giacomo" estate. This beautiful farmhouse dates back to 1700 and is now the heart of today's company. Shortly afterwards, he also bought his first "cru": the San Luigi vineyard.
In the years that followed, the "Professor", as he was known among his fellow citizens, continually expanded his estate, with purchases always focused on top quality, and never missed a harvest, even during his term as President of the Italian Republic. It was only in 1997 that his heirs were able to purchase a vineyard of 2.2 hectares from the Gancia family on the Cannubi hill, which is perhaps the most suitable for the production of Barolo. In this way, they were able to realise the dream that Luigi had nurtured but was unable to achieve because the previous owner, given the interest shown by so many people, had demanded excessive amounts of money for those few hectares of vineyards. Today the estate covers a total of 145 hectares with 12 farmhouses, of which only 45 hectares, in the best positions, are cultivated with vines, the remaining land is woodland, arable land or hazelnut groves.
The Einaudi winery was completely rebuilt and renovated with very modern standards at two different times, in 1993 and 2001: the central part of the winery is completely underground, so as not to "disturb" the surrounding nature, and a thermo-conditioning system ensures that the bottles being produced and aged are kept at the ideal temperature and humidity all year round. Cantina Einaudi produces all the wines of the Langhe area, but the real masterpiece is the Dolcetto. This fairly light and easy to drink red wine is best expressed in two different locations in the Langhe: the towns of Alba and Dogliani. The Dolcetto Superiore Vigna Tecc of the Einaudi winery is a Dolcetto that fears no equal, having received excellent praise from the public and prestigious awards from national and international critics.
The wines of Poderi Luigi Einaudi