Torrevento
From a Monastery's rock, a winery that expresses the wilds terroir of the Murge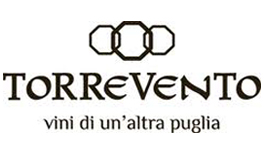 In the area of Castel del Monte, in the wildest part of the north western Murgia, the winery of Francesco Liantonio covers a vast territory, with significant numbers in terms of size, quality and bottles produced. Heart of the company is the former Benedictine monastery settecentesto in the district Torre del Vento, Liantonio bought by the family in 1948 and converted into a wine cellar, home to a wine production in traditional and rural character.
The winery manages 500 hectares of vineyards in which are placed only native vines: Nero di Troia especially, but also Bombino Bianco e Nero, Moscato Reale, Pampanuto and Aglianico. The vineyards, cordon or Guyot, are partly cultivated organically and have a pest that employs integrated control systems: an artificial intelligence that processes data microclimate and helps prevent diseases such as late blight and the 'powdery mildew. The climate is typically Mediterranean, presents favorable conditions for viticulture, as extreme temperature changes and constant ventilation, while the soil, wild and rocky as throughout the Murge plateau, it has a limestone-clay medium texture.
In the cellar, dug into the rock of the monastery, we respect the work done in the vineyard and avoids maceration too long and excessive use of wood. The wine rests in 56 tanks of glass-concrete and then in wooden containers of various sizes. Leaving fresh wines and refined, but also full-bodied, very pleasant, rich in fruit. Amongst the most active and committed to enhancing the names of nectars of Bacco and Castel del Monte, also pioneered certification of business processes for food security and ethical responsibility, Torrevento is a piece of history of the Renaissance of the Apulian wine. A monument still able to surprise and innovate, to produce wines by combining large numbers and high quality.
Information
"We were the first to believe to the great potential of Nero di Troia, convinced it could be a valuable ambassador of our land, of our traditions and of our most authentic values"
Francesco Liantonio - Torrevento
The Wines by Torrevento