Zenato
Passion, territory, elegance: a great family tradition in the heart of the Valpolicella area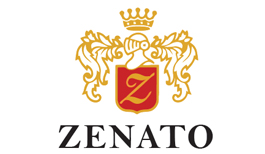 The Zenato winery is one of the most important in the Lake Garda and Valpolicella areas: 70 hectares located in the best wine-growing areas of the Veneto region allow Zenato to produce bottles of truly unique quality. This splendid winery was founded in 1960 thanks to the passion and determination of Sergio Zenato and is now run, with a strong sense of family continuity and territorial belonging, by his sons Alberto and Nadio, assisted by their mother Carla.
The mission of the Zenato winery has always coincided with the production of high quality wines, to be achieved through the enhancement of native grape varieties, respect for traditions and the use of modern viticultural techniques. The winery's properties, as well as its production, are equally divided between the ancient morainic land of Lugana and Valpolicella, where the Zenato family has joined the "Families of Amarone d'Arte" association. The winery, located in Peschiera del Garda, is home to over a thousand barriques and dozens of large oak casks.
The success and respect enjoyed by the Zenato name in Italy and throughout the world confirms that the family has always moved in the right direction, betting on territoriality and on a modern, elegant style. Today Zenato can count on a very wide range of wines, including the Amarone Classico and Amarone Riserva "Sergio Zenato", a wine that is a majestic and splendid monument to its founder. The road to quality has yielded results and the Zenato name is, with absolute merit, part of the elite of Italian producers.
The wines of Zenato