Ariola
Emilian pride in the bubbles of Lambrusco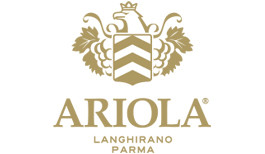 The Ariola estate, founded in 1956 by the Forte Rigoni family, extends across the gentle hills of the Val di Parma valley and takes its name from the Rio Ariola river, which flows peacefully alongside the vineyards, marking its natural boundary. Thanks to the passion of entrepreneur Marcello Ceci, who took over the business in the early 2000s, the Ariola winery has experienced a new lease on life, over time becoming the perfect combination of winemaking tradition and innovation, becoming the ambassador of Emilian passion in Italy and worldwide. The estate has developed a strong interest in enhancing the value of the territory, pursuing the most authentic expression of the Parma hills' flavour while fully respecting the natural cycles of cultivation and vinification.
The Ariola vineyards cover an area of 70 hectares between 220 and 300 metres above sea level and lie facing southwest, illuminated all day by the gentle rays of the sun. The silty-clayey soils and the ideal slope for good drainage create the perfect conditions for the ripening of rich, fragrant fruit. The bunches of Lambrusco, Malvasia, Spergola and Sauvignon grapes are harvested between August and October, paying maximum attention to keeping their aromas intact until they are pressed. This results in bottles with a strong and proudly Emilian character, capable of conveying smoothness and sophistication at the same time. With their taste and aromas, these bottles are a living testimony to the dedication and expertise invested in their production.
For over half a century, the Ariola winery has strengthened the deep bond that has always connected it to its land through love and dedication, earning it numerous international awards. Under the guidance of Marcello Ceci, it has forged a path of genuine celebration of the Parmesan territory. The result is an immersive experience in its bubbles, which are the perfect accompaniment to the delicacies of the area's gastronomic heritage. Today Ariola wines represent the meeting point between past and future, tradition and innovation: a balance that has been able to spread the passion for this region beyond the confines of the Parma Valley.
Other Informations
Ariola Vigne e Vini, Strada della Buca 5/A - 43010 Calicella di Pilastro (PR)
The wines of Ariola